Become a True Love Singles Affiliate and earn Commission
icon-chain
True Love Singles' affiliates program is a kind of marketing where
we reward you
for people you send to our site via your own marketing efforts.
Have you got a website, do you run an association, are you blogging your heart out, have a following on Twitter, or want to try cloud-based viral campaigning, etc? Read on.
We are looking for affiliates: smart, energetic people who believe in true love and would like to make extra bucks by promoting what TrueLoveSingles stands for.
In order to run this program you will need Internet access, that includes access to a computer or tablet, or a large smartphone with a data plan.
Joining the True Love Singles affiliate program is currently FREE, we are not charging an application fee. The courtship site is just starting up, so we want to make it appealing for you to join, make noise and help us seed the database.
icon-cog
To start with the program, all you have to do is sign up and be accepted.
We'll give you a personal referral ID, and you tell your friends, members, clients, followers, customers, enemies, etc., about True Love Singles.
Use our pre-designed creatives and affiliate links (embedded with your referral ID) to make noise on Google, Facebook, Twitter, Reddit, Tumbler, Yahoo and what have you.
Whenever you get people to come over and make a purchase on this site, you earn commission – extra bucks, ka-ching!
Example: let's say you make some noise on Facebook or Twitter and it gets 100 singles to purchase a 3-month Go-Getter membership at $14.95 each. That amounts to $1,495 in sales, assuming nobody requests a refund.
75% of that is yours: $1,121.30 in commission. What would you do with that cash?

icon-bullhorn
Our affiliate program handles the logistics
: your affiliate account, tracking of the traffic you have sent to True Love Singles, and the monetary rewards you have earned from your traffic's purchase transactions.
You can download creatives (banner ads, etc.) and affiliate URLs (like https://www.truelovesingles.com/?ref=1, where the number would be your affiliate ID) and use them in your marketing and noise-making, access your real-time stats on your personal affiliate page anytime, and expect timely payments.
UNICEF estimates that an average of 353,000 babies are born each day around the world. Our current world population is approximately 7.2 billion and growing. It is expected to reach between 8 to 10 billion by 2050.
How many of them do you think could appreciate a little help learning about true love and finding each other?

This diagram helps to illustrate how the program works: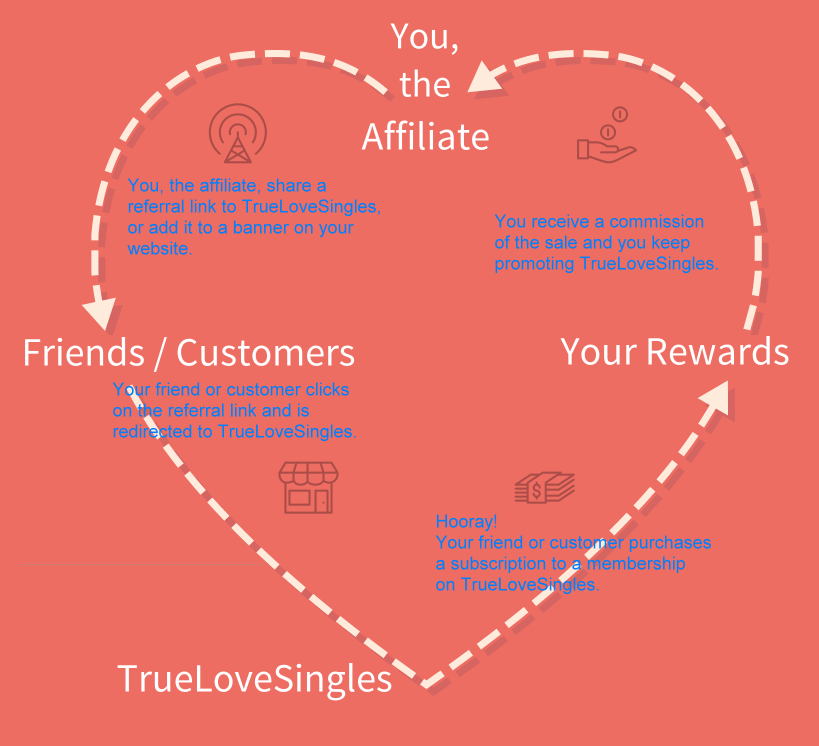 Terms of Use
Our affiliate program is spanking brand new. So is our site True Love Singles. A few people are already on there now, but we do need your help with popularizing the site and getting lots of people using it. So, this is a ground floor opportunity for the enterprising you.
That is why we currently offer a whopping 75% commission on sales of subscriptions to membership plans to our affiliates. This is a limited-time offer, and good until we have reached the 1,000 member threshold.
Thereafter, we will offer a 50% commission for one year – still a great deal!
A courtship site is only as good as the people using it to discover their Significant Other. Our brand is "true love," and we mean it. Yes, true love sounds idealistic and out-of-reach for the average person. But it is not, as we argue in our blog.
Please join our team of advocates of lasting relationships.
Commission Payout
Payout date: 15th of every month.
Transaction payable: usually 30 days after transaction (merchant-dependent).
Minimum payout: USD $50.00
Payment methods: PayPal, US check, local check, wire transfer.
Not all payment methods are available to users in certain countries. To determine which payment methods are available to you, please consult with us.


Sign Up
Leave an email and/or phone so that we can get in touch with you to discuss the affiliate program with you in more detail.