Unique & Insightful & Prosperous
As a premium modern courtship site, True Love Singles offers important and very unique features to make your discovery of Mr. Right or Ms. Perfect a rewarding journey.


icon-bitcoin
Money can't buy you love
, but it helps to provide for safety, security, and then some. That's why you may be well advised to look for a Single who owns cryptocurrency like bitcoin.
Bitcoin is on the rise again, and may one day trade at $20,000 or more again. Do not miss that opportunity, but "buy & hold" some bitcoin.
icon-eye
  Going
alone has its risks
. It is easy to get fooled when you are in love. You think it might be true love you are experiencing. Perhaps it is.
However, getting engaged in a long-term relationship is not unlike getting help for running a company – would you alone interview someone for the top job? It usually is a good idea to get a second opinion before closing the deal.


icon-fire-extinguisher
  In many
traditional cultures
, Singles are expected to rely on family and friends as matchmakers.
True Love Singles developed from the ground up to enable relatives or friends to support you on the journey of finding a family-approved mate. Their experience matters – not to "match" you, but to have your back.
icon-anchor
  Being supported by
your own team on this courtship site adds credibility to your persona
. Every athlete has a coach, every leader has a mentor.
You, too, can have a team. Your teammates may convey your worthiness. Teammates not only have your back and vouch for you, they really are your ambassadors.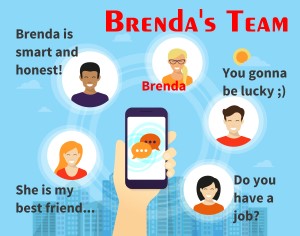 icon-group
  True Love Singles enables you to
set up private Groups to engage in confidential messaging
with other promising Singles.
You accept your family, friends or coach as well as a promising Single and his or her team into your group. Alternately, you and your team may also join the group of another promising Single.
You may create multiple groups, one per promising Single.
icon-plus-circle
  Nobody knows you better than your friends. Your team may
vouch for you by providing favorable references
about you to inquiring Singles.
Your team may also peruse Profiles of promising Singles you discovered in order to provide you with a second or third opinion.


icon-random
  Yes, many
Singles are just fine venturing out all by themselves to find that soulmate and make it love happen
. May be you are one of them.
However, consider that pursuing team-supported Singles is perhaps a viable strategy to ensure a safe journey!
GET ON BOARD NOW!

icon-home
  You create your own private Groups to communicate, messages stay confidential within each group.
The site offer free private Messaging, with messages that are more akin to conversations, with multiple friends as recipients, and allowing your members to have true conversations. Other friends can be added to a conversation, or removed, depending on how the conversation goes.



icon-key
  You'll be able to send Friend requests to other Singles. The Friends page lists all the people you have befriended.
When a Friend request is accepted, the messaging feature is enabled between the two.
On the Preferences tab of your Profile, you determine as to who can "see" your Profile info, who can "see" your Activities, who can "see" your Friends, and to whom you will be "visible" in the Directory.

icon-map
Search the Directory according to your criteria.
You may look for Singles living in Asia, and/or those with a college degree, and/or those of a certain generation, and/or perhaps those with an affinity for a particular worldview or religion.


The registration code is: passion
Free registration!