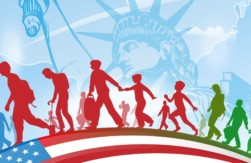 A few members, some from countries like India, have told me that they are interested in finding ways to be able to live legally in the United States. Immigrating is a difficult undertaking, they say, and good information as how to go about that is sparse to come by in their country.
So, to help out, I thought to enable a discussion forum on this site especially dedicated to immigration issues. The Immigration forum is now open to all registered members.
I am an immigrant from Europe myself. How did I do it? I came on a traveler's visa, eventually found my mate (a US citizen) in New York, married her, applied for a Green Card, and got one. That's how it happened to me.
More to come…