You're a man or a woman. Gotcha…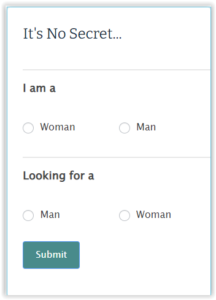 Do you believe that indicating your desire on this typical dating site form really works the wonders it seems to offer?
Only fools do so. Are you one of them? OK, probably not.
"This input form, found on many hookup sites, is nothing but clickbait designed and employed by site operators. They try to draw hapless folks into paying an arm and a leg for the illusion of getting somewhere."
We placed such a form on our homepage just to 'wake you up' and save you from further disappointment.
Never fall for clickbait again, there aren't any shortcuts to true love.
However, since the It's No Secret… gotcha form appealed to you, you also might be interested in epic love, as many of us are. Go and visit this recommended site.
Otherwise, please stay and connect with us on True Love Singles
"Romantic love is while it wants to last forever, erotic love is while it delights in the moments, real love is while it lasts, true love is after love has endured the ups and downs of life."
Thanks…