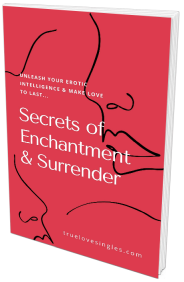 Uncage your erotic intelligence…
Employ the strategies of enchantment & surrender…
Find and safeguard true love…
Reserve your copy of the ultimate guide to lasting true love today.
We figured that it isn't money or sex that matters to most people, but erotic love. Erotic love is the art form of a living play.
Are you ready to uncage your erotic intelligence and learn the secrets of enchantment and surrender to find and safeguard true love?